Student lecture to focus on Native American climate issues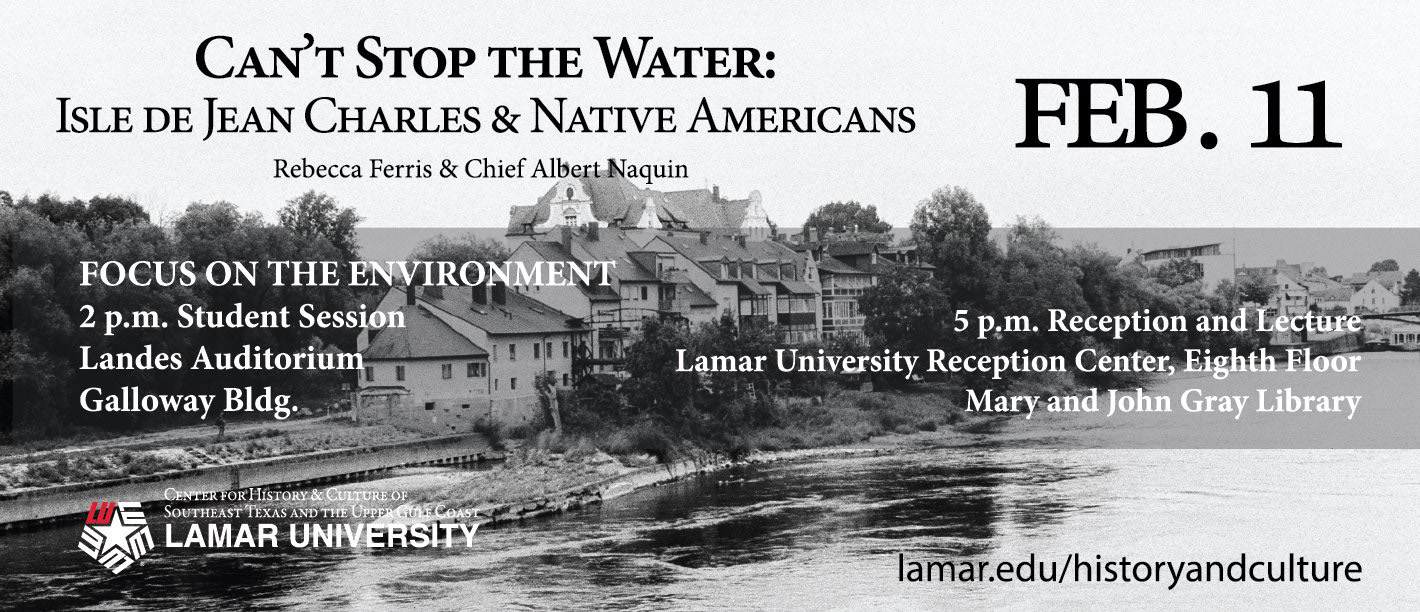 The Center for History and Culture of Southeast Texas and the Upper Gulf Coast will host a student lecture event, "Can't Stop the Water: Isle De Jean Charles and Native Americans," presented by award-winning filmmaker, Rebecca Ferris, and Albert Naquin, Chief of the Biloxi-Chitimatcha-Choctaw tribe. The documentary will be followed by a discussion of a community fighting to save its culture as its land washes away.
The event will be held on Feb.11, on the 8th floor of the Mary and John Gray Library, from 5 p.m. to 7 p.m. The event is free and open to students and faculty.
"We will begin the event with a screening of the documentary," Brendan Gillis, assistant director for the Center for History and Culture of Southeast Texas and the upper Gulf coast, stated in an email interview.
"The film introduces some of the people who have lived on Isle De Jean Charles and explains the ecological disaster that is unfolding there. After this, we will invite Chief Albert to share an update on the ongoing situation and open up the floor for a discussion. This will give our students an opportunity to ask questions."
Gillis said that this is the first attempt to hold events that focus on our region's Native American heritage as well as environmental concerns along the gulf.
"When we started doing a little bit of exploratory research looking for possible speakers, Chief Albert's advocacy and eloquence on behalf of his people quickly grabbed our attention. The film "Can't Stop the Water" has won several awards, and this is such an important issue that we immediately reached out to Naquin and Ferris to invite them to Lamar University."
Gillis said he invited Chief Albert to share the experiences of his tribe who has lived for generations on Isle De Jean Charles with members of the Lamar community.
"Native Americans are integral to the history and culture of our region, and it is important for our students to hear their stories," he said. "The problems associated with climate change — not least the issues of sea level rise, are already affecting many of us who live along the Gulf Coast.
Gillis said in the wake of Hurricane Harvey, those native to Southeast Texas are well aware of the increased risk for similarly destructive storms.
"Over the next few decades, it will be up to residents of coastal communities to figure out how to respond to the displacement of families in low-lying areas," he said. "This is an urgent social, political, and cultural issue, and one that we need to be talking about now."
Gillis said The Isle de Jean Charles Band has the dubious distinction of being the first "climate refugees" in the United States.
" percent of their traditional tribal land is already under water," he said. "The federal government issued a $48 million grant to help resettle this community, part of a landmark experiment in climate policy, but recent developments have thrown this tribal resettlement into disarray. Traditional Chief Albert Naquin, a well-respected tribal elder and indigenous rights activist. We hope that everyone who attends our event will continue to follow this unfolding crisis, and one of the questions I plan to ask Chief Albert is how those of us at Lamar can help with his efforts to serve his community."
Gillis said he sees this opportunity to inspire aspiring historians and filmmakers.
"I also hope that seeing this great film and having the opportunity to talk with some of the people who made it will encourage Lamar students to get involved in public history or journalism. Documentary films and oral histories can be great outlets for us to make a difference in our region. I think the faculty at Lamar do a great job helping students develop some of the skills they need to identify and share compelling stories.
" I really hope that hosting this kind of event will inspire someone in the audience to start asking big questions, to start filming a documentary, to interview someone in their family, or even just to start building relationships with other people in our community."
For more information visit www.isledejeancharles.com.
Story by Sierra Kondos, UP staff writer