Cardinals struggle to overcome obstacles in early season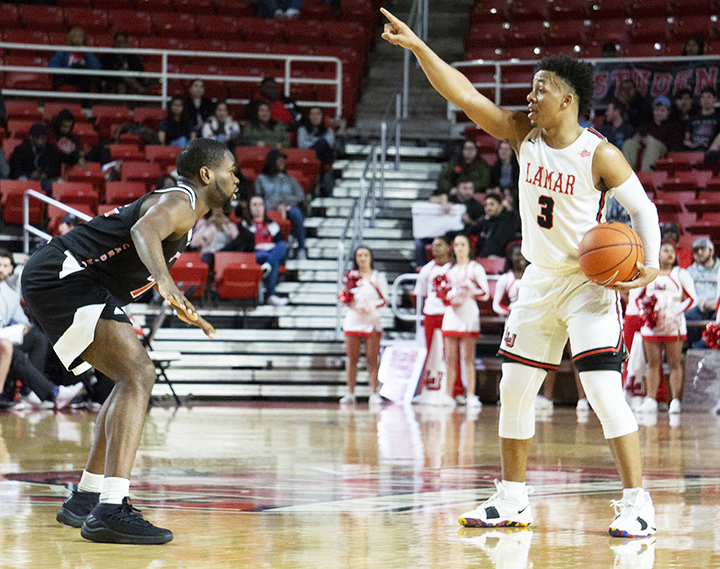 The men's basketball team had a rocky start to their 2018-19 Southland Conference schedule losing their first game to Houston Baptist, 82-88, in overtime. They struggled to regain their momentum with a win over A&M Corpus-Christi before going on to lose three games straight. The Cardinals sit at 2-5 in conference and 9-11 overall.
"We struggled on the road," head coach Tic Price said. "We have got to learn to grab victory from the jaws of defeat. We've been in every game and had the opportunity to win those games.
"Our Achilles heel has been free throw shooting. We have played in three or four overtime games and only won one of the four, mainly, because of turnovers or free throws. That is something that has been an issue for us that we have to fix if we are going to overcome some difficult times."
Price said a large factor this season has been injuries with primary scorer T.J. Atwood being out for the season.
"We have had our share of suspensions, injuries and guys not being at a 100 percent," he said. "We've had to make last minute adjustments to our game plans, and it's been one thing after another.
"As a team, you have to overcome adversity, and lord knows we've had our share of those this year. It's still a work in progress with this team. They are still growing, but I still think this team has a chance if we stay the course."
Price said he has had to look to new players, freshmen and his bench to step up.
"It's got to be the next man up," he said. "That's the way it is. If someone goes down, then someone else has to step up and that's what we are counting on at this point in the year."
Price said the team's second biggest obstacle is confidence on the road.
"We've got to learn to win on the road," he said. "We've got two road games coming up with Nicholls State and McNeese State, which I think will help build our confidence going down the stretch with six of our eight games being at home, so it's reversed from the beginning of the year. We need to get to the winner's circle for those two games. We need to build some confidence and get some momentum."
Adjusting, adapting to adversity and taking it one game at a time are going to be the keys to success, Price said.
"We've got to make sure we adjust and make our game preparations based on who our opponent is," he said. "Our practices have got to become game specific. Our guys have got to do scouting reports on other teams and know their strength and weaknesses. That way, when we play them, we can disrupt what they like to run, and we have not been able to do that, yet.
"We have to pay attention to detail and that's one thing that I think we have to improve on if we want to make a late run going into conference play."
Price said leaders Josh Nzeakor and Nick Garth have been a constant through the ups and downs of the season.
"Josh Nzeakor, inside, is a force," he said. "Nick Garth has given us a presence on the perimeter. I think this team is really focused in on the team effort and that's a big part of us having success. I think if our team will continue to execute offensively and play stop defense, it will help us grow and develop, and have some more success in conference play."
Price said although they aren't happy with the current record, there is still plenty of fight left in the team.
"We don't feel good at all," he said. "We know we are better than that. We have been in every game. No one has really blown us out. There were times when we were our own worst enemy and those were some heartbreaking losses, but our guys are playing hard and I have to give them that. "Our mistakes have been costly in certain games, but we have to learn and don't relive."
Price said he believes the Cardinals still have a shot at the SLC tournament, but it will be a tough road.
"We have to take care of our own business," he said. "We can't hope somebody else will do it for us by losing. In this conference, there is so much parity, there is no dominant team. The road is tough, and you've definitely got to win at home, there's no doubt.
"This is really the part of the year where teams have to be mentally tough and grind wins out — and that's were going to do."
The Cardinals faced Nicholls State, Wednesday. Scores were unavailable at press time. LU will hit the road to take on McNeese State, Saturday, at 3 p.m. in Lake Charles, La., before returning home Feb. 2 to host Abilene Christian at 7 p.m. in the Montagne Center.