LiveSafe app helps students feel secure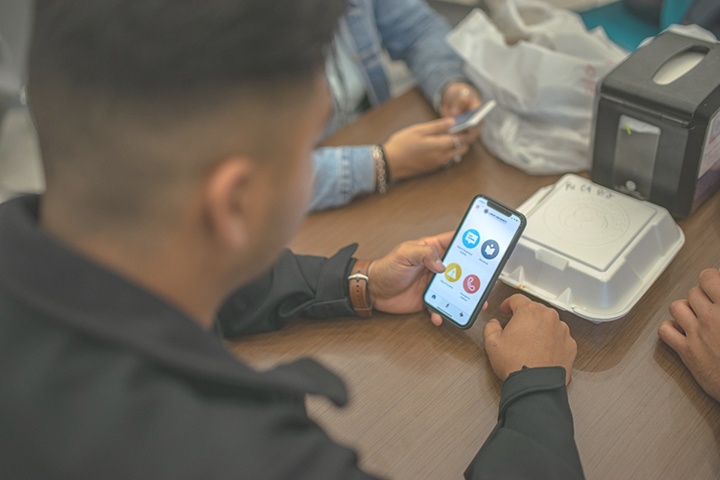 Lamar University has adopted LiveSafe, a new safety app specifically designed for college campuses to create a safe college experience.
"We had an app called MyPD before," Daniel McLemore, associate director of marketing and communications, said. "It was a contact info kind of app, but it didn't have Watch Me Walk or notifications, so it was lacking in some areas that we were hoping to improve."
LiveSafe allows users to contact LUPD, and also to contact facilities and maintenance as well as IT.
"Sometimes you're walking around and realize a little piece of concrete fell off a column or something," McLemore said. "Students can snap a photo of it immediately and it goes to the LUPD dispatch, and then they can issue a work order to have something repaired."
The app allows users to report suspicious or dangerous activity.
"Let's say they see an assault case or something else going on," McLemore said. "They can grab their phone and start sending that to LUPD discreetly. We had to have the ability for students to send something anonymously, too."
LiveSafe features include "Watch Me Walk" and "Watch A Friend Walk" programs. The features allow individuals to be monitored as they move around campus.
"You can actually give someone access to the GPS on your phone," Sgt. Jarrod Samford, LUPD public information officer, said. "If you're on Lamar's network, as far as LiveSafe, you can open that up to somebody that you feel secure giving your GPS to. You can add or remove who you want to. It opens up a map and they can actually see you walking from the building going to your vehicle as a dot."
Notifications that the campus is shut down or classes are canceled will be sent through the app, as well as instructions on what to do for any emergency procedure.
"So if we have to cancel class because it snows randomly or hurricane-type stuff, we need to be able to reach students quickly and this system does that," McLemore said. "But it also integrates with the current system we have which is Blackboard Connect, so when we send out a message it goes to phone calls and text messages, and then it goes through this app through the push notifications, too."
Students who use the shuttle or live on campus, will be able to access routes, times and GPS location of the shuttle as a dot on a map.
"Not only does it show you the route that the shuttle is on, it shows you where the shuttle is right now," Samford said. "On the weekends, we go to Central Mall, Walmart and HEB. If you're not getting something you want on campus, food or clothing wise, you just show up with your student ID and we take you. Instead of our students waiting outside for the shuttle to show back up, they can actually see when the shuttle is coming back. It's a good safety thing for the students."
Parents are encouraged to download the app, too, McLemore said.
"Currently, unless you give us your parent's information, we don't have a way of getting in contact with them," he said. "But this is a way that a parent can go and download the app and register as  a guest, and have access to all the same safety features that students do. Whenever we send out a notice saying that campus is being closed due to weather conditions or something, the parent can also get that notification, too. That gives them a little peace of mind, especially if it's parents out of the area — they feel like they're a little more connected with their student."
McLemore said the LU campus is relatively safe, but things happen and individuals being there for their fellow students is important.
"We have a relatively large police force, and a great staff and faculty who are watching out for students," he said. "But a lot of what's important is students watching out for their fellow students and calling attention to things when they see it happen.
"It literally is like a community in this app. The more people that are using it, the more beneficial it becomes for the entire student population. You then become the eyes and ears of campus. It shows that you are invested in campus, too. We want our students to be invested with us as much as we are with them."
The LiveSafe app is free and available from the Google Play or App Stores. Registration is through Lamar email.
Story by Rachel Hellums, UP contributor