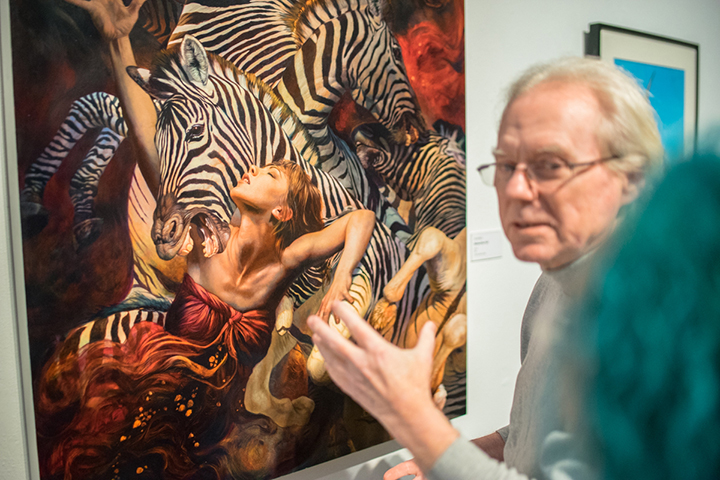 The Dishman Art Museum is hosting "Dream Weavers," an exhibition of work by Julie Bell and Boris Vallejo, through March 1. The duo, who are internationally renowned for their illustrations will present a gallery talk, Feb. 15, at 5:30 p.m., followed by a free reception from 6:30 p.m. to 8:30 p.m. in the museum,"A consistent theme in all of my paintings is the personal dignity and empowerment of the subject, whether the subject is a person, animal or creature," Beaumont-native Bell said in an email interview. "It's been a subject of introspection throughout my life, and has deep and important meaning to me. It's a wish of mine that all beings could have the gift of their own dignity and empowerment."
Vallejo began his career as youth in his native Peru.
"Art came to me in a very natural way," he said. "I won a prize in a national competition for high-school artists and the prize was to attend art school for free. I did so and went on from there. As I finished high school and went to college, I thought that I wanted to pursue a career as a physician. Around the same time, I started being requested for freelance artwork for local merchants for advertising art. I decided that art would be my career. As I developed my skills, I was advised by an American art director that I should go and follow a career in commercial art in the USA. That finally happened in 1964. So, here I am, 55 years later."
Bell and Vallejo's art is a combination of women and animals both realistic and mythical.
"You would think that this is funny or peculiar," Vallejo said. "But truly, my dreams inspire my art. Painting and seeing weird situations for my paintings is something quite natural for me."
In a 2010 interview with SFX, the married couple spoke about their idols and inspiration that intertwined their interests in science fiction and fantasy.
"One of my first idols was Tarzan," Vallejo said in the SFX interview. "I read all the Tarzan books. I used to do these drawings of Tarzan going around with the apes and fighting savage animals and so on. Subsequently I discovered the work of Chelsey Bonestell, as well as J. Allen St. John, who was the classic illustrator for Tarzan.
Bell's interest began in mythology and fairytale inspired art.
"Of course I was really influenced by Boris, but before that I was really interested in the work of Edmund Dulac, and other fairytale artists," she said in the SFX interview. "These are watercolors so it was a very different kind of thing, but it still had that fantasy use of color and design.
"I figure fantasy allows us to use the bodies in a way that we want to in the paintings, it's so fun to be free when you are creating. Fantasy settings give you freedom.
Bell said her painting skills stem from her father, architectural artist Milton Bell, who designed the Plummer Building, among others, on the LU campus.
"I've been an artist for as long as I can remember, so I would say I was born that way," she said. "I studied art throughout high school and then at Lamar with Jerry Newman and, later, several other universities. It was when I met Boris, when I was 30, that I decided to take my art seriously and pursue it as a professional career."
Vallejo said that bodybuilding has been his inspiration since he was a teenager and the fit figures in his work reflect the admiration he has for the profession.
"As a teenager in Peru, my home country, I was small and weak," he said. "I got interested in exercise and actually built up to a degree. Not competitive bodybuilder shape, but much more developed than the average teenager around. People that train their bodies hard and enter bodybuilding shows not only have great bodies but know how to display those bodies."
It was through bodybuilding that the pair met.
"Julie was a competitive bodybuilder," Vallejo said. "She had won many trophies at national contests. She was recommended to me as a model for my paintings by a mutual friend who was a gym owner. She had just won a contest that he organized. We were mutually attracted, and the rest is history."
Bell said she hopes the couple's work inspires Lamar University students to believe that it's possible to have a successful career in creating art.
"When I was an art student at Lamar, the concept of an artist being able to have a career and actually make a living creating art seemed so mysterious and arcane to me," she said. "I hope that the LU students will see that Boris and I are just regular people who chose to do the necessary work to make such a dream a reality. Mostly, I just hope they leave feeling the way I do when I see an art exhibit — that they enjoy the artwork and feel inspired to create."
Bell said that the exhibition is dedicated to her father.
"My father passed away a few weeks ago," she said. "I was given the precious and amazing gift of being his daughter. His presence in my life bestowed upon me the qualities that made it possible for me to create my art and, in a million lifetimes, I could never thank him enough."
For more information about the artists, visit www.borisjulie.com. For more on the exhibition, visit www.lamar.edu/dishman.