Lady Cardinals eye another SLC title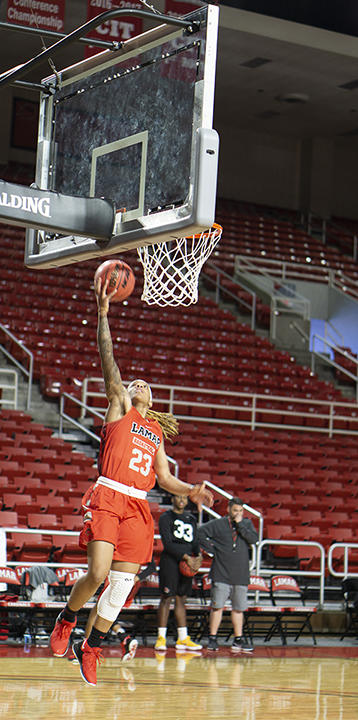 The LU women's basketball team has been hard at work as they continue to battle for their spot at the top of the Southland Conference list. After being voted to finish the season as the No. 1 team, the Lady Cardinals have fought hard to uphold their title and live up to those expectations.
After finishing 17-1 last year, head coach Robin Harmony said they want to go 18-0. With an 83-72 victory over Sam Houston State, Saturday, the Lady Cardinals are almost half way to their goal as they sit at 7-0 in conference with a nine-game winning streak.
"We want to set the bar higher than what it was," Harmony said. "Obviously, if you know us, you know we take it one game at a time. Now, we are getting ready to go on the road and I feel like our conference has gotten a lot better. There is no game now that is an easy 'W' like there was before. Before, it was the top four teams and then you could just go and crush somebody and now, obviously, we have a bullseye on our back, everybody knows it and they want to knock us off."
The women look to uphold a three-year home winning streak and maintain their dominance as the No. 1 team as they shatter school and NCAA records.
"We haven't lost in three years here," Harmony said. "We are the No. 1 team and us and SFA are tied, but that's all going to come down quickly. We play Abilene (Christian) on the road. We play Stephen F. Austin on the road. Even McNeese, who is getting better, they have a new building and they won three games straight — we can't take anybody for granted."
Harmony said she looks to defense and her senior leaders, Chastadie Barrs and Moe Kinard, to help guide the team through the second half of the season and into another SLC championship title.
"I think we are hanging our hat on defense," she said. "In the conference, we are leading in steals. It's defense. Defense is what makes our offense go and it's the leadership of Chastadie and Moe that is important. They are engaged every day in practice, and by the time you are a senior you're tired, but they have kept a good attitude and they work hard. They are the ones that show us — how they go, we go."
Harmony said that she has also found talent in her freshmen, who have stepped up since the start of the 2018-19 season.
"Miya Crump came in right away and we knew she was a special player," she said. "She was in the starting lineup from the beginning. Angel Hasting is really not back yet from injuring her ACL her junior year in high school, but we see glimpses of her on offense that show us that we know she can help us. Our big post player, Umaja Collins, we have her as the first sub for the post because she's strong, physical and we know she can play defense. So, those three kids have made an impact."
Harmony said her goal is to keep winning, improve and, hopefully, make it to the NCAA tournament this time.
"I think that we just keep getting better every game and so does everybody else," she said. "Sometimes they are ugly wins, but a win is a win and that's what our motto is — just get that 'dub.' I think that our kids are trying to play for 40 minutes. They are trying to play hard and trying to represent Lamar whether it's home or on the road."
Harmony said she wants to encourage all students to continue cheering them on and show up to games to show their support.
"I think it's important for the students to come out and watch," she said. "If they come to the men's game, they should come to the women's game. A lot of them might think that women can't play, saying, 'Oh, they're not that good.' But if they come to one game and see, we can get them to come back. So, we encourage them to do that."
LU faced Nicholls State Wednesday night. Scores were unavailable at press time. The Lady Cardinals will hit the road for the next four games, starting with rival McNeese State, Saturday, at 1 p.m. in Lake Charles, La.