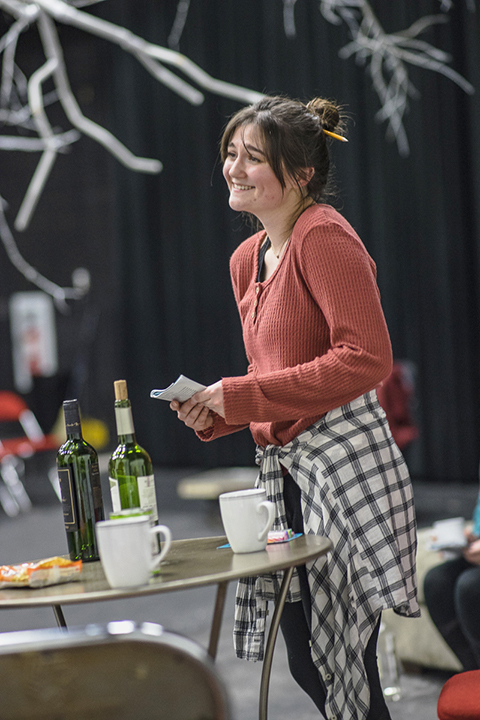 LU Theatre and Dance will present "The Birds," Feb. 7-9 at 7:30 p.m. and Feb. 10 at 2 p.m. in the Studio Theatre.
Ticket prices are $7 for LU and LIT students, $10 for faculty, staff, students and senior citizens and $15 general admission.
"The Birds" was written by Connor McPherson and adapted from a short story written by Daphne DuMaurier. It is directed by Joel Grothe,  LU associate professor of theatre.
The play focuses on a post-apocalyptic Earth where humanity fights for survival against hordes of rogue birds, and the consequences of coexisting with strangers.
Grothe said that McPherson, as a playwright, is intrigued in the concept of the supernatural and their presences as it is evident within the play.
"The experience of watching the play really gets that across, and it's present in the script," he said. "The way he crafts the whole thing, it makes for a unique theatrical experience."
The whole idea is to have the audience experience that supernatural presence like it was in the room with them, he said.
"A good performance can be felt before it can be understood," he added.
Grothe said that this version of the play has similar elements compared to Alfred Hitchcock's version of "The Birds," having the same plot of birds attacking humanity, but it's different because it's based around a couple.
"Basically, three people are stuck in a house trying to work out the dynamic between them," he said.
Grothe said that the play surrounds the concept of human relationships and what people do under dire circumstances.
"It's not 'The Walking Dead,' but it is the end of the world," he said. "It's people learning to adapt to not having electricity, to not knowing what's going to happen next and having everything taken away from them.
"They all have their moments, and any good characters are relatable at some point and full of contrasts," he said.
The main male character, Nat, played by senior Christopher Shroff, suffers from a mental illness, possibly stemming from the unfortunate circumstances he endured.
Shroff said he always try to find something in his own life to relate to his characters.
"Nat is older than I am, so it can be difficult, but it's not hard to find something to latch onto, whether it's just a moral code or the way that he interacts with another person," he  said. "I try to bring that into something that I've experienced, or I've seen someone else experience that I would be able to make it my own character."
Shroff said that there is some difficulty when it comes to getting into Nat's headspace.
"There are a bunch of birds slamming themselves into the windows, so it can be difficult to wrap your head around being able to think that there's something going on outside that I'm supposed to be terrified of, but there's also a conversation going on inside that's important to the plot of the play," he said. "I balance both of those, being able to say that there's tension of what's going on outside that's causing the conversation and social issues that's going on inside to become more tense."
Nat, originally joined by Diane, a writer, played by senior Caitlyn Grammer, is later joined by Julia, played by junior Emily Buesing.
Grammer said that Diane is the most grounded character in the play.
"Nat has some issues with headaches as he hallucinates when he's sick, and you can't decide whether Julia is telling the truth or not," she said. "For me, a lot of the decisions that Diane makes, make sense to me, like they're decisions that I would make."
Grammer said that the big theme in the play is paranoia and trust issues.
"In a situation like that, where you're stuck in the same place all day, not knowing the time or day, and what's true and not true as the passage of time affects you," she said. "Something like this either brings out the best in you or the worst."
Grothe said that he enjoys bringing this play to life because it's simple, yet complex at the same time.
"I liked the simplicity of it, and I think it tells an interesting story," he said. "It also gives us a chance to do interesting things with the set designs."
Grothe said that other than directing the play, he appreciates the collaborative process of the production the most.
"All of the design work is being basically done by myself and another faculty member," he said. "We're sort of creating the whole environment, and I've had a few people consult with me on it."
Grothe said that his inspiration for the set came from sculptor Richard Serra, who creates large-scale metal art pieces that changes one's perspective.
"I'm playing with space and I'm playing with perspective," he said. "The sculpture we have over the stage is built from PVC pipes, originally created for another play that happened a couple of weeks ago. We decided to keep it and incorporate that, just sort of giving that presence that we need."
Grothe said that most of the set of this play has been done on more realistic sets in the past, but he decided to go with the simple, concentrated and straightforward route for this production.
"I wanted to create something not realistic, a setting that can be stripped away and by the end of it, can just be black and white," he said.
There are a few challenges, as any production, Grothe said, but everything is organized and they're handling themselves just fine.
"It's all about problem solving and teaching the students how to be creative problem solvers in terms of how they put the play together," he said.
Grothe said that the theater they present is for the Lamar students as it is part of their college experience.
"Part of your university experience is being able to participate, work on a production like this, or being audience members and being exposed to something artistically that will open up your mind and horizons to something you have not seen before," he said.
For more information, contact 880-8037.