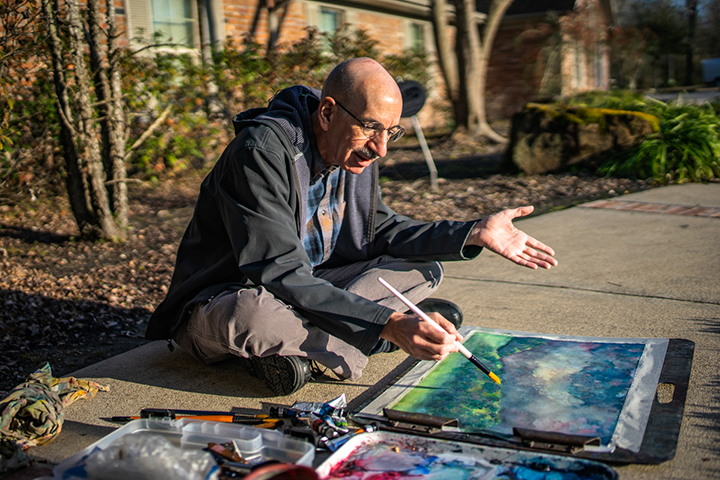 Starting today and ending April 14, the Art Museum of Southeast Texas will show the artwork of Lamar University graduate Mike Cacioppo in an exhibition titled "Happy Accidents."
"What does my art aim to say?," Cacioppo said. "For me it's that nature is talking to you all the time.
"I'll be driving or walking around, and I will either look at the trees or at the sky and I'll start thinking, 'OK, this is saying something to me.' So I want to then try and project what it's saying on to the piece of paper. I want to be able to convey those feelings."
The work he is focusing on right now is landscape painting, using the Tyrrell Park Garden Center as a muse. Cacioppo said that while working it makes him feel a part of the landscape, and objects in the paintings have something to tell us.
"All year long the trees are telling you something, they change throughout the year and each time they change they're telling you something," he said. "Right now, they're barren but beautiful, but next month you're going to see them spring out and they're going to have a whole new coat."
One of the pieces, a painting of a group of trees, called "Family Portrait," it is the postcard for the show, Cacioppo said it is a happy accident.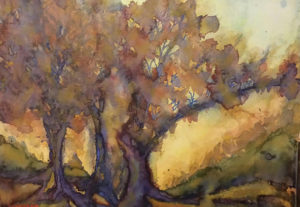 "I usually do what they call a wet-on-wet technique," he said. "When you put water color paints on a wet piece of paper they tend to spread, it's going to be like an explosion on the paper, and sometimes something would occur that I didn't expect when I was doing the painting."
With watercolor, once one puts the paint down, that's where it's going to be, and one can't make a lot of changes, Cacioppo said. Painters don't have a lot of control when it's wet-on-wet, and sometimes it doesn't go exactly to plan, and even by the end of the painting results are not guaranteed.
"So, what I would do is let it dry, go back the next day, and wipe off the top layer of paint leaving you with the original stain of colors," he said. "From there you can develop a whole new painting and that to me is part of the happy accident — you took something that was really a loss, and from that you created a whole new painting."
It wasn't the original focus of the painting, and it's not what was intended, Cacioppo said, but it's what works for the painting.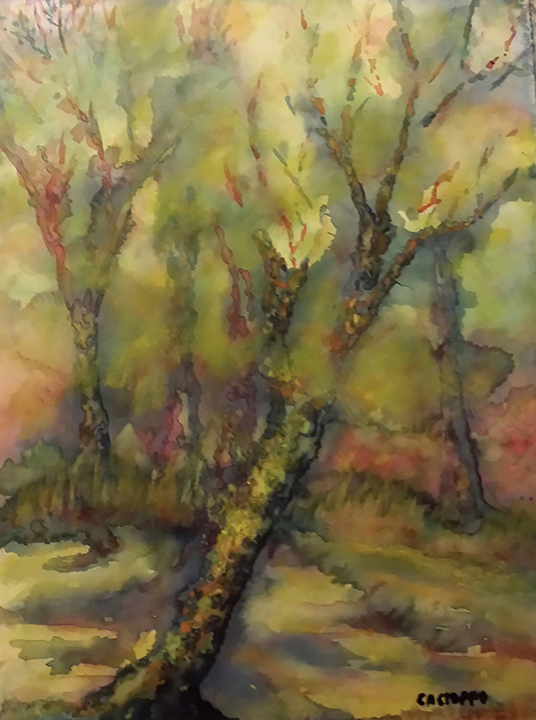 "When I was at Lamar, my watercolor professor was Robert O'Neil, and he knew that people didn't consider water color an easy medium," Cacioppo said. "He tried to put us at ease by letting us know that even if things do not go right while we are painting, though the painting itself will be an accident, it will be a happy accident."
All the paintings in the show are happy accidents, Cacioppo said, because they turned out to be something wonderful and something he didn't expect. That's why he finds watercolor to be a fun medium that he can do a lot with it.
"A lot of this is thanks to my art history professor at Lamar, Dr. Lynne Lokensgard," Cacioppo said. "She would bring art to life and because of her I have the knowledge to do what I can do. Even though all these professors taught me techniques, it was Lynne who taught me the why, the background, the reason, and the inspiration."
The things that everyone needs to realize is that art is all around them even if they don't realize it, Cacioppo said — it makes everyone's life so much better.
For more information, contact AMSET at 832-3432, or visit www.amset.org.
Story by Tiana Johnson, UP contributor