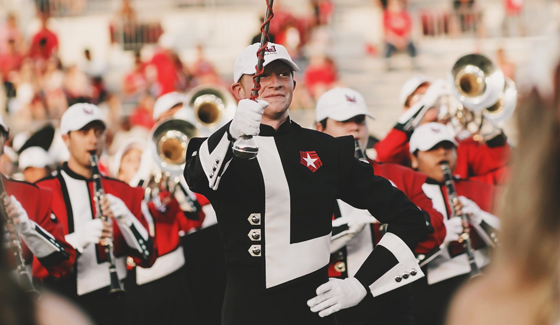 When people see marching bands, they see them at football games performing at halftime. Most people see the band as a performance group only. What they don't see is the many hours of practice and preparation that goes into putting on a show. Marching band is more than a performance. Marching band is a sport.
Take marching's top tier league, Drum Corps International, for example. It's best described as a professional marching band. However, there is a difference between marching band and drum corps. Drum corps does not utilize woodwind instruments such as the flute, clarinet or saxophone.
Drum corps are independent groups and aren't affiliated with particular schools, but represent some of the best musicians in the world.
Much like other sports, in DCI there is competition. The season starts with auditions in early November and lasting through the end of January or early February.
At spring training, members move in to a housing site where they will live for the next six weeks. Usually these housing sites are gyms or dorms. Once moved in, they get straight to work by starting to learn the show they will perform at Worlds. Spring training schedules are typically from 8 a.m. to 10 p.m. every day including physical training, visual practice and music rehearsals.
Once spring training is over, the competition season begins. With almost the same schedule as spring training, a performance and travel are now included in the mix. The competing corps will travel the nation to perform in college and NFL stadiums in front large crowds. This season lasts from July until August.
The hard work all pays off and comes to an end at world championships. All the corps will compete over a three-day period to decide who is in the top 12 and who is DCI world champion. The DCI World Championships take place annually at Lucas Oil Stadium in Indianapolis, Ind. Semifinals include the top 25. Finals include the top 12. The placements are announced at the end of finals in one big ceremony. At the end, whoever is in first place, gets the championship and puts on an encore performance. The DCI world championships were broadcasted live in 2005. Nowadays, the entire season of competitions are livestreamed on www.FloMarching.com.
There are also students, as well as professors at Lamar that have history with this. Eric Shannon, Lamar director of athletic bands, marched in a corps known as The Cavaliers and continued his drum corps career by teaching at The Cavaliers three years after he marched.
Many members of the Lamar Band — Showcase of Southeast Texas — also have drum corps experience, including Houston sophomore Justin Mondragon, who marched with the Bluecoats and earned a third place at finals this past summer.
All of these performances are available on YouTube.
Drum corps is a sport that is not recognized by a lot of people, but it should be.
I see people argue and debate online whether drum corps are athletic events — they are — and the students participating need to be recognized for their efforts, not denigrated.
Drum corps demands similar physicality and athleticism as other sports. Of course, it is not the same as football or basketball and baseball, as those sports are physically demanding in their own way. Much like those other sports, drum corps demands physicality in its own way. I hope in the coming years, Drum corps will get the recognition it deserves.
Story by Chris Harmon, UP contributor