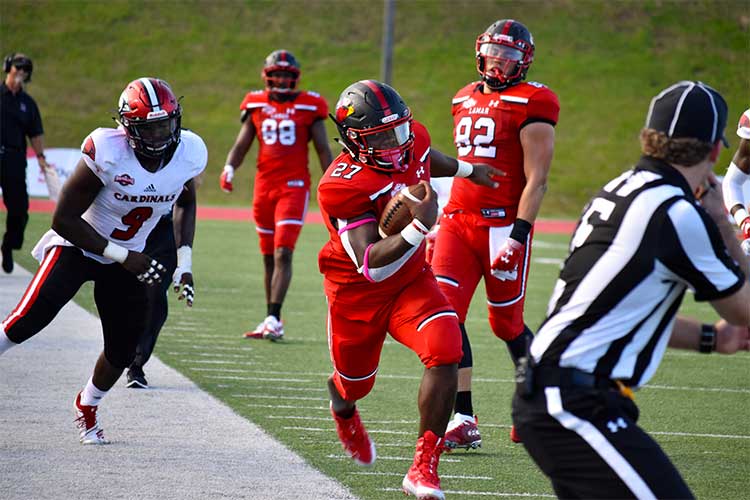 Riding the back of one of the nation's longest win streaks, Lamar University has advanced to the NCAA FCS Championships for the first time in program history. Less than 24 hours after knocking off rival McNeese in Lake Charles, the Cardinals were selected as one of 24 teams to advance to the NCAA FCS Playoffs which was announced on ESPNU Sunday morning. The Cardinals will travel to Cedar Falls, Iowa to take on the Northern Iowa Panthers.
"I'm just so excited for our players," Mike Schultz, LU football head coach, said. "They have worked their tails off to get in this position. I'm excited for them and the staff. After the 1-4 start, we still felt like we had the ability to make a run but we had to have something fall our way. Even in our conference losses we were drawing confidence and then a few things went our way against Incarnate Word and it just continued."In situations like these, I don't think you can ever be so specific and say that it is any one thing. I believe it was a gradual process going back to the summer workouts. I've said throughout the year that we had to trust the process and stay the course and that is what this team did."
Both teams advance to postseason by finishing third in their league standings. The Panthers won four of their final six games and are coming off a 37-0 victory over Missouri State. Big Red enters its first playoff run riding the wave of a six-game win streak – the program's longest since the 1971 and 1972 seasons, and the longest streak within a season since 1967.The opening-round game is slated to kickoff at 4 p.m. from the UNI Dome and will be televised on ESPN3. If the Cards advance past the opening round, they will travel to Davis, Calif., to take on the bracket's No. 6 overall seed, UC Davis.
"After we won last night, I think we all felt confident that we had put together a strong résumé but there is a selection process in place and we knew we had to trust that process," Chaston Brook, senior linebacker, said. "Northern Iowa is a great team, and we definitely have our work cut out for us. We have to treat this like a regular week and go about our business of getting ready to play like we have all season."
Led by second-year head coach Shultz, and coming off a 2-9 campaign in 2017, the Cardinals (7-4/6-3 Southland) shocked the nation and took a path that few if any saw coming. After starting the season 1-4 (and 0-3 in conference play) and losing several starters to injuries in the first two games, Big Red appeared to be playing out the string.
After dropping a 23-point decision at Nicholls midway through the season, everything changed as the Cardinals rattled off one of the best runs in program history. LU ended the year winning its final six games to record one the nation's top single-season turnarounds and finish third in the Southland standings. Along the way, the Cardinals knocked off three nationally ranked opponents, and handed Southland Conference Co-Champion Incarnate Word its first loss of the season – the game-winning play was featured on ESPN's Top 10.
There will be a watch part at Buffalo Wild Wings — Dowlen Rd in Beaumont — Saturday, with the kickoff at 4 p.m. 
Buffalo Wild Wings is offering exclusive food and drink promotions for the event. Fans are encouraged to send the football team off, Friday, at 12:30 p.m., in front of the Dauphin Athletics Complex.