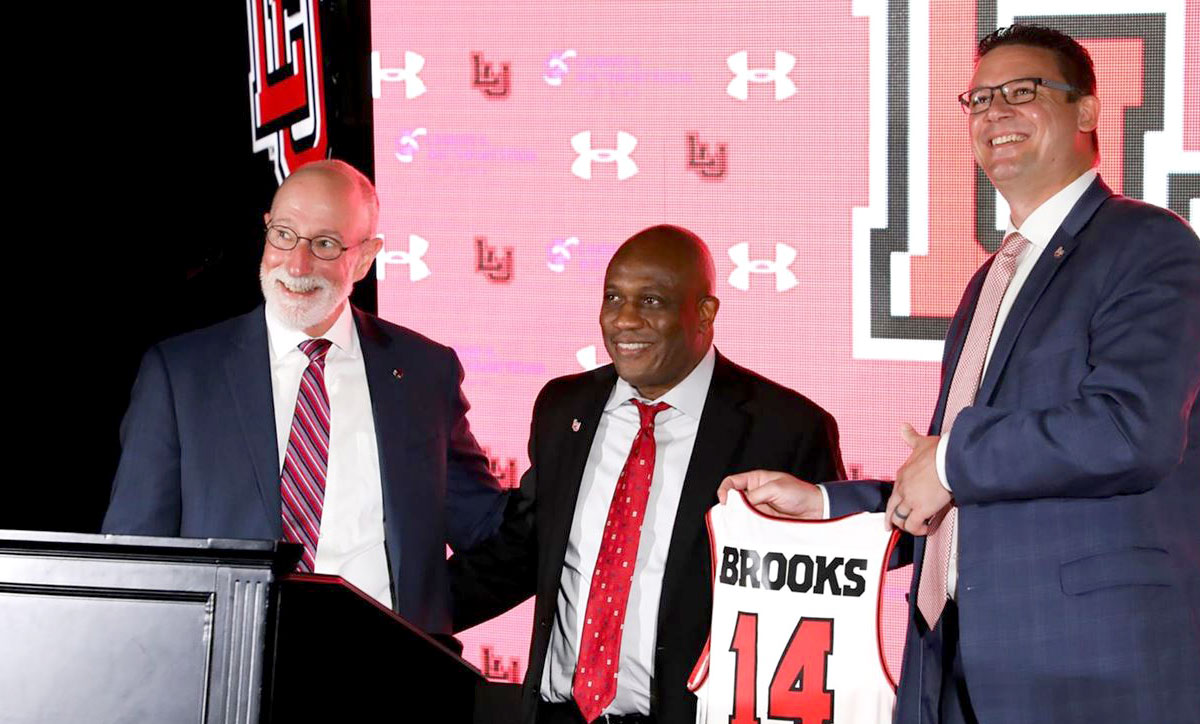 Nearly 35 years since his last season with the program, Lamar basketball great Alvin Brooks will soon return to Beaumont. As the next head coach of Lamar's men's basketball team, Coach Brooks will look to guide the Cardinals back to success as they enter the Western Athletic Conference in 2021.
A Houston native, Brooks has strong ties to the Southeast Texas area. He attended college at LU and played two seasons for the Cardinals. Brooks helped lead the school to back-to-back Southland Conference titles in 1980 and 1981, as well as an appearance in the Sweet Sixteen of the 1981 NCAA Tournament.
At an introductory press conference, April 7, Brooks talked about what he had learned during his playing career at LU.
"It's really important that (coaches) build a bond of trust with your players," he said. "They trust you, you trust them, and then you start to build a culture of toughness so they understand how you want to win and play." 
Brooks didn't only make an impact as a player though. After graduating from LU, he transitioned into a coaching position to begin his professional career. Brooks served as an assistant coach for five seasons, and said he still speaks to some of his old recruits from the program, even today.
In 2019 he was inducted into the Cardinal Hall of Honor to commemorate his contributions to LU basketball. Brooks undoubtedly remains a huge figure in the history of the program, and now has the chance to build upon that legacy.
Coming back to Beaumont represents a special homecoming for him, too. Brooks said he looks forward to the opportunity to take over as the coach of his alma mater.
"It's a dream, it's something I would have never imagined, to come to your first love, the school which you absolutely love, where you started, your alma mater — it's a dream," he said. "So, I'm excited about it. I do know once all of this is over with, it's time to get to work."
Over the 35 years since his last job at LU, Brooks spent time with several renowned basketball schools, his longest stint taking place at the University of Houston. He spent 11 years with UH as an assistant coach and became a key part of helping the school rebuild their basketball program into a powerhouse. Over the last few years, UH reached the national tournament three times in a row — including an appearance in the Final Four this season, where they lost to eventual national champions Baylor. 
During that Final Four appearance, Brooks experienced something truly special — he coached against his son, Alvin Brooks III, who is an assistant for Baylor's basketball team. He said it was a once-in-a-lifetime experience.
"For both of us to get there in the same year — just amazing," he said. "As a father, I was so proud. Wasn't as proud when he was beating us, but I was so proud to see him out there with his team. And I was really excited to watch him go for a national championship and win it."
Coach Brooks outlined his plan for turning the Cardinals into perennial contenders in their new conference.
"The plan is to build a foundation of trust, togetherness, accountability and family, and it starts with the current players we have," he said. "I look forward to working with those guys and I think we've got some talented young men here. Add some pieces to it, and we'll be competitive enough to play for a WAC championship."
Lamar University athletic director Marco Born said that the move to the more competitive WAC meant it was time to find new leadership and take LU basketball to the next level.
"I think we found that in Coach Brooks," Born said. "He understands Lamar University. He's a Hall of Honor member and a graduate of ours. I think he's gonna take us back to the glory days, I'm convinced of that.
"Brooks is a winner, he's got a passion for this institution — and he's a great recruiter."
With 37 years' coaching experience and 23 tournament appearances to his name, Alvin Brooks seems to be the right man for the job. He finished his media session with a message for Lamar students and fans next season.
"Come out and support us, we really look forward to all your support," he said. "We're going to play some exciting, tough basketball."