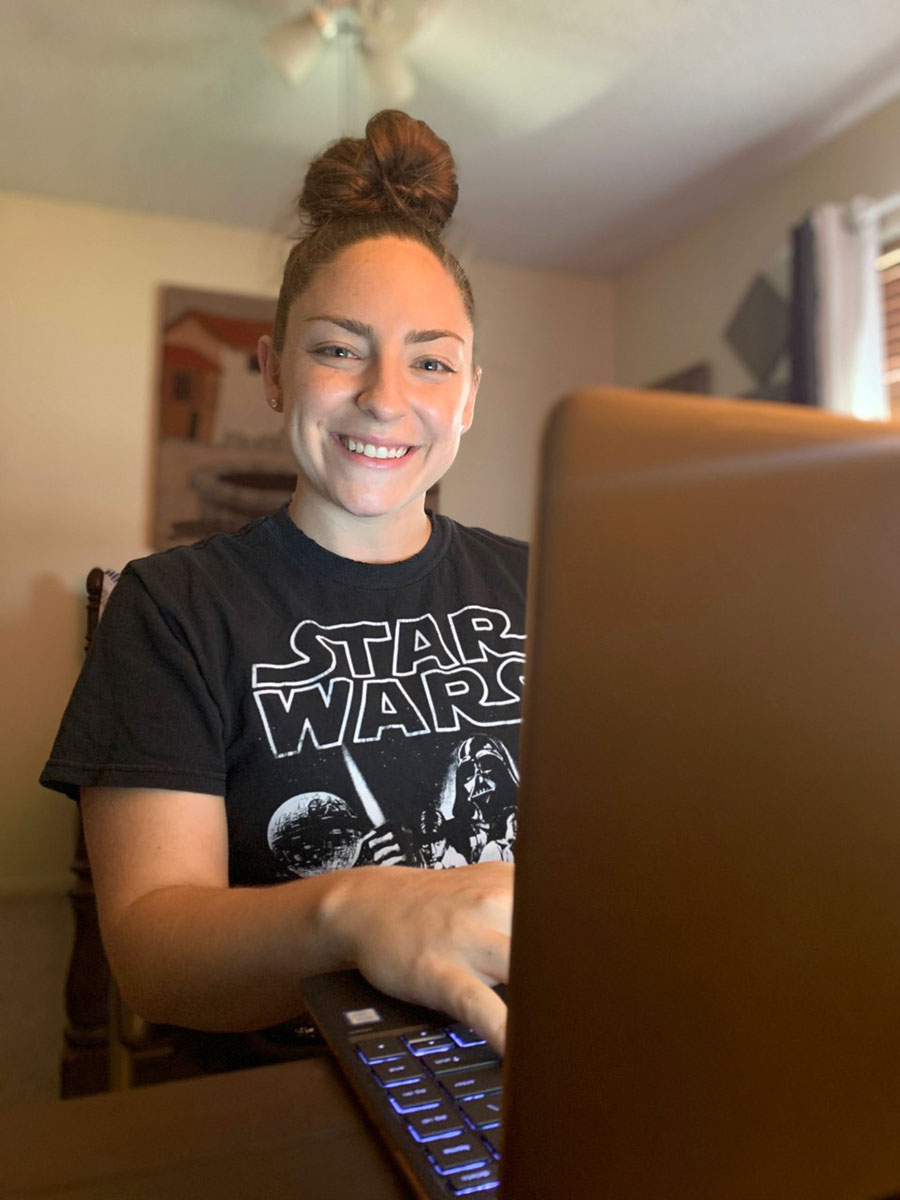 During the past two months, teachers around the globe have had to rapidly shift gears and transition to online or distance learning as a result of the coronavirus pandemic.
Sam Tijerina is a sixth-grade English teacher at Bettye Myers Middle School in Denton and is also a volleyball and basketball coach.
"These are just unprecedented times were living in right now, I still can't believe it," Tijerina said. "Being a sixth-grade teacher is a tough job in itself. These kids just began their middle school experience and now it's been interrupted due to this pandemic."
Tijerina said she did not find the transition to distance learning hard.
"I think most of us teachers felt prepared for this transition, nothing we're doing is new," she said. "We've used most of these apps before during class time so that's one less thing I need to worry about. Denton ISD did a 'Roll Out' of Google Chromebooks which would ensure that each student in that district had access to using all necessary platforms for communication."
Zoom, Google Hangout, and Group Chats have been the hub of distance learning. With no way to physically meet, teachers are depending on these platforms to stay connected to their students.
"Every Wednesday I meet with my students on google forms — Thursdays I meet with them individually through zoom and I also stay in contact with them through email," Tijerina said.
Prior to the school closure, Tijerina had more than 130 students that were split into six different class periods on a daily basis.
I miss my students, I really do," she said. "When you spend over eight hours a day, five days a week with these kids, you love them like your own. I just know many of them are having a hard time with all of this."
Tijerina said she uses this as an opportunity to uplift and encourage her students and athletes.
"I post daily encouragements on google hangout and sometimes I'll email them funny videos and GIFS," she said. "Not everything has to be so serious right now."
While some students are worried about passing to the next grade, the reality is that many others are wondering where their next meal is going to come from. School closures have affected this group of kids immensely.
Beginning April 15, the Denton ISD Child Nutrition Department began "super bundling" an entire week of school meals (five breakfasts and five lunches) available for pick-up each Wednesday. Drive-through meal pickup is also available.
"When we began hearing about school closures, I started getting worried for some of my kids because I knew what that meant for many of them," Tijerina said.
As the school year comes to a close for many teachers and students, many schools have canceled finals and limited the number of assignments.
"I call my assignments learning opportunities," Tijerina said. "All I ask from my kids is to read any book of choice for 30 minutes a day, and whenever I get on Zoom with them, we'll just talk about it, which actually turns into a great conversation."
Tijerina said that at first she was trying to come up with assignments, but at this point she is more concerned with making sure her students' needs are being met.
"Not everyone has the luxury of using this time as an opportunity," she said. "There are literally kids wondering where their next meal is going to come from. There will be a time for teaching and lecturing, but, right now, their wellbeing comes first."
"My Classroom may be empty, but my heart is happy knowing all my students are safe."