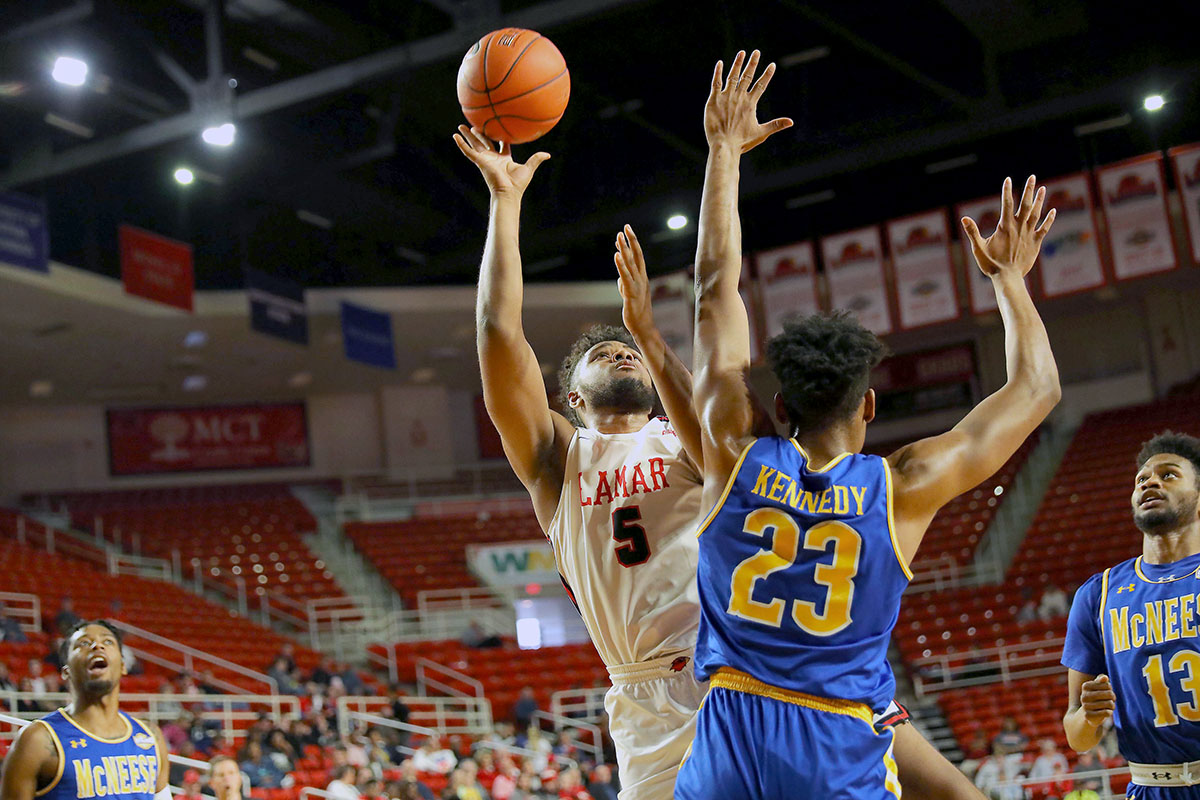 The men's basketball team lost to the McNeese State Cowboys 70-66 on Saturday at the Montagne Center in Beaumont.
The Cards struggled in the first half, shooting 35.1 percent from the field and were outscored in the paint 24-16. Both freshman guard Anderson Kopp and senior guard V.J. Holmes led the team in scoring during the half, with 8 points each. Lamar ended the half with a 9-point deficit, trailing the Cowboys 45-36.
"I'll start off by saying McNeese deserved the win," head coach Tic Price said. "They played harder, especially in the first half."
In the second half Lamar showed a much stronger defensive presence, and led by senior guard T.J. Atwood, who finished the game with a team high 23 points, as well as two blocked shots, an assist and a steal, managed to tie the game 66-66 with 29 seconds left in the second half after a pair of free throws made by Atwood. However, in the seconds that followed McNeese pulled ahead of the Cards 69-66 after a 3-point shot made by McNeese State junior guard Dru Kuxhausen, who was fouled by Cardinals freshman guard Anderson Kopp on the play, and after a subsequent made free throw, the Cards lost the battle to the Cowboys 70-66.
"We're not gonna make no excuses about it," Atwood said. "They got to loose balls all night. I credit them (MCN) fully, 100 percent. They got to a lot of those, they got a lot of second chance points, they just played harder than us, and that all came back to bite us in the end. That's all it was."
Despite the last-minute loss, the game was a hard-fought battle and Price gave his team credit for staying in the game despite a tough defeat.
"In fairness to our kids, we dug a deep hole and our kids didn't quit," Price said. "They kept fighting, they came up short, obviously the other team made some plays at crunch time and we didn't."
Price also praised Atwood for his leadership and scoring that kept the Cards in the game.
"One, he's a senior (Atwood)," Price said. "He's been our leading scorer. We felt like there was a mismatch, so we kept going to him and he can deliver time and time again for us."
The Cardinals are set for a rematch with McNeese, March 11, in the Southland Conference Championships at 7:30 p.m. at the Merrell Center in Katy.