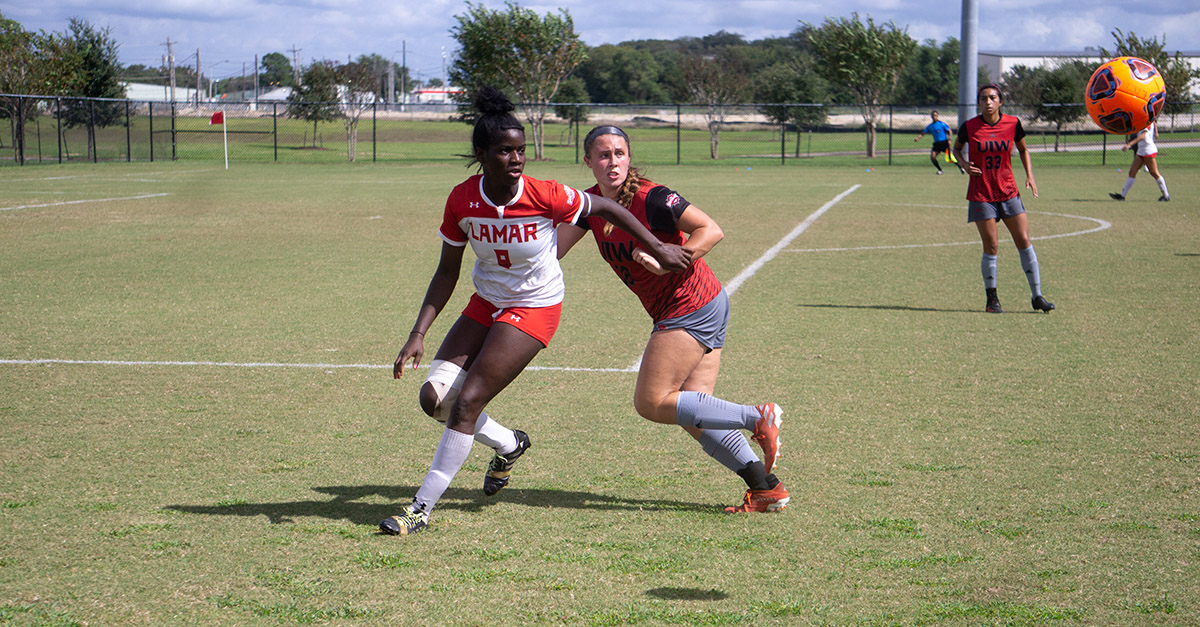 The Lady Cardinals soccer season came to an end, Nov. 15, as they fell 4-1 to UCLA in the first round of the NCAA tournament, after winning both the Southland Conference regular season and tournament titles.
"As far as I think, it's probably no surprise," head coach Steve Holeman said. "We feel really good about this. I think winning the regular season championship was quite an accomplishment and then you enter the conference tournament. Anyone can tell you it is really difficult to do what I call the double — winning both the regular season and conference tournament."
The Lady Cards ended their conference season 13-6 (10-1 SLC) and were seeded No. 1 in the Southland Conference Tournament in Conway, Arkansas. They won the tournament championship for the second time in the team's history.
Holeman said the Lady Cardinals tournament success was hard fought.
"It's never easy to beat a team twice," he said. "We beat SFA a second time, we beat Corpus Christi a second time and then matched up against Northwestern State in the final. We knew that Northwestern was going to be a challenge because they give up very few goals."
Lamar beat Northwestern State 3-1 to take the title.
The Lady Cards' winning streak ended at Wallis Annenberg Stadium in Los Angeles, losing to the Pac-12 powerhouse.
"We went out there and gave it everything we had and put on what I consider to be a really strong performance," Holeman said. "I think we have something to be proud of from this year. (UCLA) had 25 national team players on their roster. Every kid in their starting lineup is a national team player and we're not even close to that, so we knew it'd be an uphill battle."
Holeman said the team was surprised when it was announced that they would be playing UCLA.
"When you have some experience in the NCAA, you kind of have an idea of who you might play," he said. "I don't think anyone would have been surprised if we saw us matched up against (Texas) A&M, like we were two years ago. We initially thought we might get to maybe go back to Oklahoma State. We thought we might draw Arkansas just based on geography.
"The funny thing is, after we won the conference tournament, we asked the team where they would like to go, and they all said California — be careful what you ask for."
The Lady Cards began the season 1-5 after they lost to Tulsa, Sept. 8, one of the lows of the season, Holeman said.
"We had a tough schedule in the beginning," he said. "We had Alabama, Oklahoma State, Arkansas. Those aren't games I think anybody from the outside expects us to win, but we felt like we had a team that could compete. Those were teams that were going to prepare us for conference play, and they certainly did. We turned it around, went into the next two non-conference games to finish three and five."
After playing their non-conference schedule, the Lady Cards defeated Nicholls State in SLC action, then went on the road and lost to Northwestern 2-1 in overtime.
"Next, we're playing the defending conference champs in Central Arkansas, on a Sunday, and we're down 2-0," Holeman said. "We made an adjustment in our lineup, and we came back to tie and beat them in overtime. And that 3-2 win was the first win of our 12-game win streak, and that was kind of the impetus for our success."
Holeman said the high of the season was beating Houston Baptist University to clinch at least a share of the SLC title, then winning the regular season, and then winning three-straight to win the SLC tournament.
"We want to build on what we've done, but it's tough to do better than we did this year," Holeman said. "In the spring, NCAA allows us five playing dates. We'll try to schedule to play some tough opponents. We will have most of our starting lineup, except for Macie McFarland (who's) not returning because she is graduating. And then we will have three or four new players to add to the mix.