'Luna Gale' portrays complexity of morality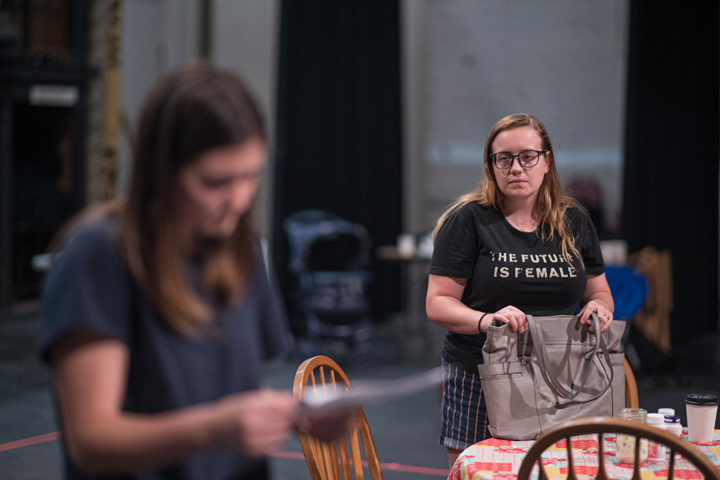 "Luna Gale" pushes past black-and-white thinking in a complex situation involving a social worker and teenage parents accused of neglecting their infant daughter — whose name is the title of the play. 
Carolyn Johnson, an adjunct instructor from Houston, is directing the production which will have four shows, Oct. 3-5 at 7:30 p.m. and Oct. 6 at 2 p.m. in the University Theatre. 
The play follows Caroline, the social worker put in charge of deciding where Luna belongs. 
"It's a tough story but surprisingly funny in moments," Johnson said. "We're just really lucky that they're having us do this show. The writing is really strong on this piece. It's a very complex human story.
"It's not really straightforward who the hero is, who the villain is — it's complex, like people are."
"Luna Gale" has been performed on Broadway and premiered at the Goodman Theater in Chicago in 2014.
"It's very contemporary, dealing with a lot of things that we're dealing with right now — drug addiction and how it has infiltrated even the smallest of towns," she said. "(How do) we deal with that —what is right and what is the answer for each person."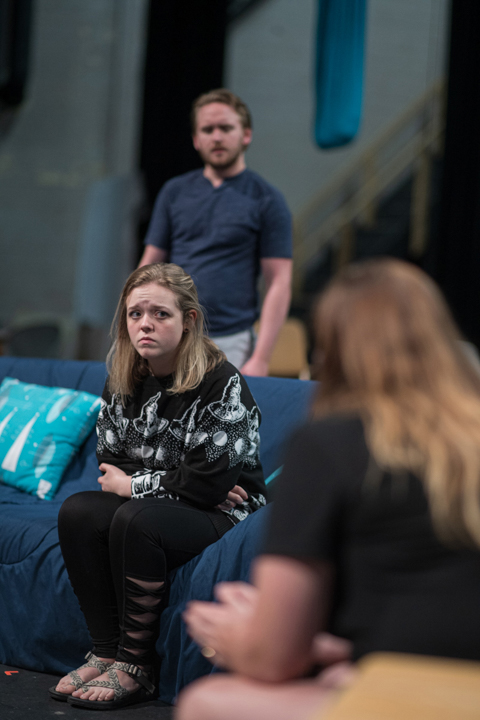 Caitlin Parker plays Caroline.
"For those of us that are acting in it, we have a lot to work with and our characters are very real and very human people," she said. "It's relatable to the audience."
Chris Shroff plays Peter, the teenage father. 
"The play itself is very eye-opening, because it sheds a different light on people who go through issues that a lot of people see and judge immediately," he said. "There might be more to their lives affecting the reasons why they've done what they've done."
Although "Luna Gale" is thought-provoking, the story does not get weighed down with the subject matter, Johnson said. 
"It's a mystery," she said. "There are twists that you don't see coming, so it's a surprisingly compelling piece and not just a heavy drama."
"Luna Gale" portrays personalities coming up against each other, Johnson said. 
"People will be surprised by it and maybe challenged for sure," she said. "I think it's going to cause people to really examine their own belief systems."
Ed Seymour plays Pastor Jay, the grandmother's pastor, who is brought in to negotiate with the social worker to help her see the grandmother's point of view. 
"I think the play is absolutely beautiful, it's so well-written and poignant," he said. "If this was a book, I would read it and re-read it and re-read it and never get tired of it. This is one of the best productions I've been a part of."
Johnson said the liminal, or transition, space of theater allows audiences to examine ways of being and interacting that they do not always have the space to do in real life. 
"When you are watching it play out, I think it allows you to really think about it in a different way," she said. "With theater, we really are able to offer a window into other worlds. It literally allows us to see more detail in these people's lives than what we see in headlines."
People often judge those who work in Child Protective Services harshly, Johnson said, because they only see them in the headlines when they've screwed up and something bad happens.
"We don't think a lot about what the day-in and day-out is, so I think that's fascinating," she said. "Everything that seems obvious — obviously this is the way this should go, and obviously that's a bad choice, and obviously that's a good choice. But when you dig a little deeper, then it gets more complicated."
As humans, we want things to be black and white, and we don't like it when there is not a clear answer — but that is how life is, Johnson said. 
"That's really what (playwright) Rebecca Gilman has done so beautifully here," she said. "All these complex characters that you can agree with one moment and completely disagree with the next moment."
"Luna Gale" asks the audience to hold two conflicting ideas in their minds at the same time, Johnson said. 
"It's very upper level," she said. "It has strong potential for educational benefit. I think for a university audience, it's going to make people talk and think about how we frame individuals other than ourselves, how do we think about them, how do we want to put them in a box."
Tickets are $7 for LU/LIT students with a valid ID, $10 LU/LIT faculty and staff, senior citizens and non-LU students, and $15 general admission.
For more information, visit lamar.edu/theatre.