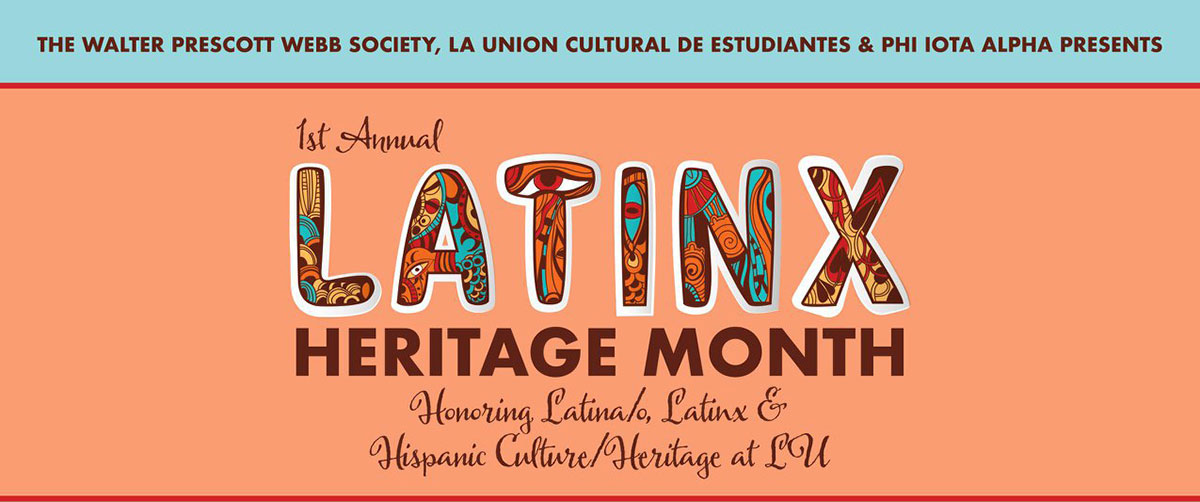 Lamar University's first Latinx Heritage Month, honoring Latina/o, Latinx and Hispanic culture and heritage will be held Sept. 15 through Oct. 15. The celebration, organized by the Web Society, La Union Cultural de Estudiantes and Phi Iota Alpha, will feature events ranging from a Mariachi band and speakers to movie nights, and a history and culture empowerment class with tacos.
"Latinx is a gender-neutral neologism, sometimes used instead of Latino or Latina, to refer to people of Latin American cultural or racial identity in the United States," Miguel Chavez, associate history professor, said. "The '-x' suffix replaces the standard '-o/-a' ending of nouns and adjectives, typicalical of grammatical gender in Spanish language."
  Chavez said if the university wants to recruit and retain Spanish-speaking students, it is very important for the students to see themselves represented on campus.
"How can we best make their Latinidad, a Spanish-language term adopted by Latino studies programs to identify various attributes shared by Spanish- speaking people and their decedents without reducing those similarities to any single essential trait, visible on campus?" he said. "We celebrate and honor their history, culture and heritage."
Chavez said that in the past two years he has witnessed first-generation students withdraw from the university because they felt they did not belong at Lamar.
"I no longer want to lose another Latinx student," he said. "It is also important to note that LU has a positive history of working with surrounding Spanish-speaking communities. In my research on Beaumont Latino history, one of the earliest community-driven, grass-roots organizations during the 1980s collaborated with LU administrators and BISD officials to develop programs to assist Latinx students enroll into Lamar."
Chavez said the heritage month is a great opportunity for LU faculty, administrators and students to resuscitate those relations.
"I, as a faculty and Latinx community member, am committed to do so," he said.  "As a Latino professor, I know the struggles our students are undergoing at the university level. My goal is to mentor and advise students who are working towards creating positive student identities for themselves, and to encourage them to take leadership roles on campus."
Chavez said that the "Hispanic" identity is outdated.
"An immediate goal is to link LU and Southeast Texas to a national discourse on our Latinidad that is presently being shaped by scholars, educators, students, community leaders, civil and immigrant rights activists," he said. "It very important to support students who embrace an identity that empowers them, and that encourages them to complete a university education to pursue their dreams and careers."
LU students Melissa Torres, Houston senior, and Julio Cesar Delgado II, Port Arthur senior, are working towards cultural empowerment for the Latinx students on campus.
"I've been involved in committees regarding cultural programming on campus," Torres said. "I worked closely with Division of Global Diversity, Inclusion, & Intercultural Affairs in bringing up the Unidad Scholars Program, an academic program on campus that's focused on recruiting, retaining and graduating Latinx students on campus."
Torres said she has spoken on the "Latina! Power" panel, which is now in the works to become a conference.
"I am on the 'Latinx Friendly Institution' Task Force and involved in student lead programming meant for cultural empowerment, she said. "Most recently, I was one of the presenters at the Provost Kick Off discussing how to better serve Latinx students on campus.
"Latinx people are a huge population in Texas and in the United States, and a growing population at Lamar University. We're a presence and a powerhouse on campus. We're ready to boom. Lamar prides itself on being one of the most diverse colleges out there, and all of this is a huge factor in all that."
Delgado is Phi Iota Alpha Fraternity, Inc.-Alpha Upsilon president, said that despite a growing number of Latinx students enrolling at Lamar, the culture was not represented.
"Fortunately, a few students shared the same sentiments and we started planning under the direction of supportive faculty," he said. "It's important that we celebrate Latinx heritage and culture as a source of motivation for the ever-growing population of Latinx students at Lamar. Usually, it is only through the type of programming that we have taken the time to plan for where individuals get to learn about the rich contributions of their people."
Delgado said the goal is for Latinx Heritage Month to become a part of Lamar University's culture.
"The hope is that the celebration of Latinidad is so deeply ingrained in the fabric of Lamar University's campus, that it becomes tradition to remember and celebrate the contributions of Latinx individuals on the local and national level for decades to come," he said.
For more information about events, email miguel.chavez@lamar.edu.