The Symphonic and University Band will have a concert May 7 at 7:30 p.m. in the University Theatre showcasing a diverse palette of music and composers.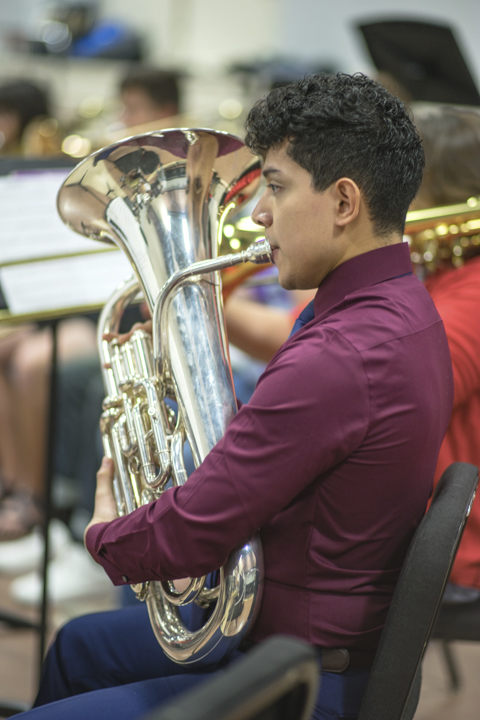 The program promises something for every music aficionado, Eric Shannon, Director of Athletic bands said.
"The program inspiration was trying to play music from a diverse array of composers with a wide array of purposes for music," he said. "The music I chose comes from different time periods, are created by composers of different genders, ages, and ethnicities. So I guess the number one word to describe this program would be diversity."
The concert will feature pieces from composers such as John Mackey, Julie Giroux-West, and John Philip Sousa, along with band arrangements of Coldplay hits and a piece which requires musicians to make music using four sheets of paper entitled "Paper Cut," he said.
"Paper Cut," composed by Alex Shapiro, will involve musicians ripping, crumpling, and stomping on paper along with other choreographed maneuvers intended to make music.
A common tie between the music of the two bands is an intriguing take on rhythm, Shannon said.
"I was looking for interesting rhythms to tie together," he  said. "The 'Paper Cut' piece is an example of electroacoustic music, and we will also be playing 'Joy Ride' which is a parody combination of Beethoven's Symphony No. 9, 'Ode to Joy' mixed with John Adams' 'Short Ride in a Fast Machine' and it uses a lot of polyrhythms."
The Symphonic Band will also play a piece entitled "Drum Music" by John Mackey, which will feature percussion faculty member, Francisco Perez.
Along with all the music, the department invited members from the community to get involved in a clarinet clinic put on by music faculty member, Kim Ellis, and those participants will play John Philip Sousa's "El Capitan" march with the band, Shannon said.
"We invited all community or high school clarinetists to the clinic and that will culminate with them playing the 'El Capitan' march," he  said. "We hope to have a big show of clarinets along the front of the band playing the march."
Senior music education students and graduate assistants will have the opportunity to conduct the University Band alongside the directors, Shannon said.
"Our grad assistants, Eli Cutler and Morgan Contreras, will conduct pieces for the University Band alongside Meredith De Leon, senior music ed major," he said.
Shannon said he hopes audience members leave the concert feeling refreshed and renewed.
"I want audience members to take a personal journey through their thoughts and feelings as they listen to the music throughout the concert," he  said. "I want them to leave feeling refreshed."
This will be the last concert of the semester, following the Wind Ensemble's concert last Thursday.
The concert will be free and open to the public and audience attire is casual. For more information about the concerts and the music program, visit lamar.edu/music.