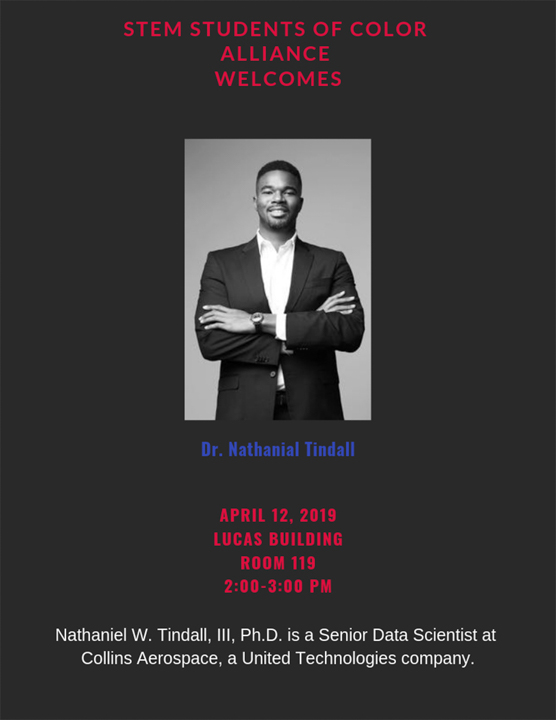 The STEM Students of Color Alliance is hosting an informational forum, tomorrow, at 2 p.m. in 119 Lucas Engineering to discuss  the study and employment needs of students of color within STEM fields. The organization was started by Jacqueline Jensen-Vallin, associate professor of mathematics. Jensen-Vallin noticed that students of color did not persist, as well as other groups, in mathematics or engineering.
"Students of color tend to graduate at lower levels in those fields than other student groups," Jensen-Vallin said. "I will see many students of color in my pre-calculus class and very few of them in an upper-level math course. We are losing them somewhere, so how can we better support them, show them there is community, and help them find each other on campus?"
There are many theories as to why students of color are not persisting in the STEM fields, she said, but the challenges vary among students and institutions.
"I think one of the reasons is that they do not feel supported," Jensen-Vallin said. "They do not have any role models on campus. There are very few faculty of color on campus at all, and in the STEM disciplines, they are even more rare."
The goals of the program are to help students of color succeed at Lamar by giving them a place where they can feel included.
"The goals are to provide students with role models that they do not necessarily have on campus, to provide them with an opportunity to create community amongst themselves, and to provide them with an opportunity to know that we care," Jenson-Vallin said. "We want to remind them that there is a group of people that care about their success and who want them to do well."
The organization seeks to change the expectation for students and faculty.
"If you look at the invited speakers five years ago, the slate of invited mathematicians were all white mathematicians and one female," Jensen-Vallin said. "I think people are becoming more aware that they can easily, without sacrificing quality, diversify their speakers."
STEM Students of Color Alliance provides faculty members of color a chance to speak at events so that their achievements can be recognized.
"For faculty members who do not get invited to speak at various lectures, their tenure, resumé and ability to apply for a promotion is affected," Jensen-Vallin said. "But, if they are systematically excluded, this is not fair to them. This is a way to recognize these fantastic people and help build their resumés."
The STEM Students of Color Alliance provides students with a mentor to help students work toward their goals. Jensen-Vallin said that she personally knows how daunting it can be to ask for help when problems arise.
"When I started college, I did not want to ask anybody for anything," she said. "I did not want to go to office hours, ask questions or raise my hand in class. I was one of two women in the room in a lot of my math classes, and to ask a question was admitting that I was not as good as the white guy sitting next to me. That was terrifying.  I am not the only person that has had this kind of experience."
Nathaniel Tindall III, senior data scientist at Collins Aerospace, will be a speaker at the event. As a man of color who has achieved professional accolades in the STEM fields, he will talk about the struggles he has faced.
"I think one of the things I love to talk about, concerning color in STEM, is this idea of failure," Tindall said. "The difficulties of being black or being brown, and the pressure that there is on trying to be perfect and thinking that everyone else has it together."
He said it is important to talk about not only his successes, but also his failures.
"It is a gift to have someone say these are the pitfalls and my failures, but this is what ended up happening from all these," he said. "I do not plan to come there and speak in a certain tone of voice and say, 'Go make it happen.' There is a lot of realness I want to bring to the table. It is a reality check for those who are trying."
Tindall said he wants to keep the talk vulnerable, honest and real.
"It is not a warm-hearted, feel-good kind of talk," he said. "It is about being real about the struggles that I have had, the beauty that happened when I overcame them, and what my experience was."
Alicia Prieto Langarica, associate professor of math at Youngstown State University and previous forum guest speaker, said she had her credentials questioned simply because of her ethnic background and the color of her skin.
"I had a student ask me if my Ph.D was real, or if I got it in Mexico," she said. "Instead of saying anything I said, 'Here is the school I went to as an undergrad, go find the list of classes they are taking and come back.' He did not come back, but he had a lot more respect for me afterward."
Langarica said mindsets like those are why an organization like the STEM Students of Color Alliance is so important.
"It is not that we need more support, it is that the system was meant to support other people," she said. "People of color need the same amount of support — it is just that other people do not give it to them."
Langarica said that the school system was initially set up for white males, who were going to do nothing but work. The organization is to help others succeed in a system that was not created for them, she said.
"Think about the university a long time ago, nobody had a job and went to school because it was cheaper back then," she said. "That is how the system was created. The participants in the system are no longer like that, the majority of them either have jobs, are non-white males, people that have other obligations or adult learners. The system is not created for them."
The organization provides students with people who look like them and have already gone through what they are going through, to provide encouragement during challenging times.
"When students are going through STEM programs and they have a failure, especially when they are in the minority, they do not think the program is hard. Their first thought is, 'Something must be wrong with me,'" Langarica said. "Just having a group of people that look like them, that already went through this experience and can tell them, 'I felt like that, too,' can make them feel better."
Langarica said that there is a misconception of how many people can succeed. That there can only be the one black mathematician or the one Hispanic mathematician. The sense of community this program provides also aims to let students know that there is strength in numbers, she said.
"Those games of one make people very competitive because they think there is only one that can succeed," she said. "Groups like these foster cooperation among students of color because there does not need to be one, there could be 20, there be 100. There is power in numbers, but we need groups like this to realize that there is room for all of us, and if we work together, we can all rise up."
Jensen-Vallin said that they have support to continue the program for next year and hope to do more, but she would like feedback and input from students.
"We are aiming for more events," she said. "I would really like at the end of the semester, to have a celebration of all of the things the students have done, but I need students to tell me what they have done this year so that we can celebrate them."
Everyone, regardless of ethnicity or race, is welcome to join the organization.
For more information, contact Jensen-Vallin at 880-7859, or Jacqueline.jensen@lamar.edu.