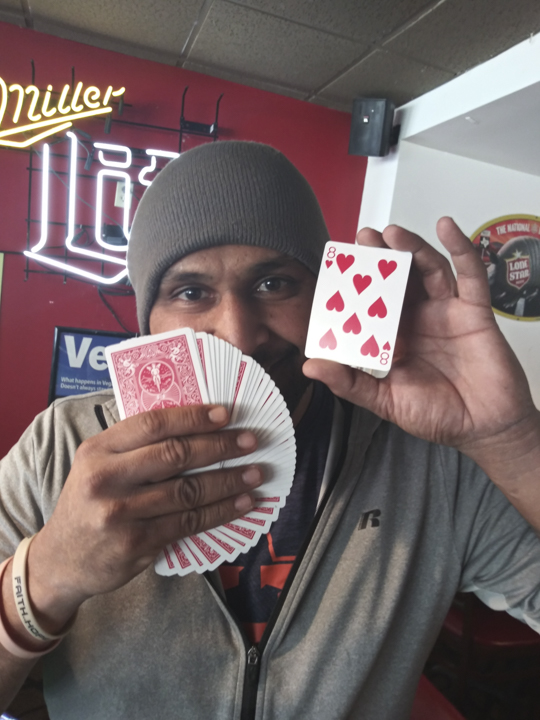 You may know him as Alex. Others know him as Shane, or "Sideshow Shane." Whoever he is, he can be found every day at Kampus Korner performing magic tricks for strangers and friends alike.
"The look on people's faces when I pull their card from my wallet, or some other goofy thing, is something special," he says. "I've had customers come up to me thanking me for cheering them up, or helping them have a nice night out, giving them a magical experience. It's honestly what I live for."
Alex is a one-name guy — or three, technically.
"I don't like to go by my last name, because I'm Batman," he said, laughing. "It's because my anonymity as a magician is very important to me."
Alex pulled out his on-the-go magic kit, featuring cards, books, ropes and a wand, among other gadgets.
"I bring this with me everywhere, it's my style of magic," he said. "You've got your Penn and Tellers, who commit to a more comedic stage magic, you've got your Criss Angels, who are more of a stunt street magician, and you've got me, the off-the-cuff magician."
Alex said he turned to magic when he was 19, following the death of his father.
"I needed something to distract myself," he said. "I was sitting at home one day and I was watching a David Blaine special, and I was like, 'This is actually pretty cool.' After the special was over, I flipped through the channels and immediately I ran into 'Chris Angel's Mind Freak,' and I thought to myself, 'Man, this is actually something really badass. This is something I'd like to learn.'
"I learned a couple of card tricks, went on YouTube, and practiced diligently for a couple months."
The first time Alex performed in public was at a Starbucks.
"There were some kids playing some card game, so I went up to them and told them that I had just learned a new card trick," he said. "I did the card trick I had been practicing for a few months, and just their reaction alone, getting them to laugh and smile, that was like a drug.
"Immediately after I got done with the magic trick, this girl gave me $2. I said, 'No, don't worry about it. She said, 'No, you earned it.'"
Alex has been performing for 12 years.
"I've learned a wide variety or tricks from different magicians and books," he said. "I've met some interesting people along the way and have always enjoyed putting on a show."
The Lamar University film major earns a living performing on the streets in Austin and across Texas every weekend.
"I like people to stop for a minute and open up to their inner eight-year old, when the world didn't really matter," he said.
Alex also works as a waiter from time to time.
"I had this one customer I was serving and performing for, after she left, she gave me a tip and a note her on receipt saying, 'Thank you,'" he said.
Whenever he returns from his travels, Alex heads back to his friends on the back porch of Kampus Korner.
"At the end of the day, they're my biggest supporters," he said. "Lamar is why I come here every day, but, honestly, the porch are my friends — they're my best friends. They're the friends I wish I had in high school, but I never had a chance to get."
People always ask how the trick is done, but Alex won't say.
"Magicians never tell their secrets," he said.