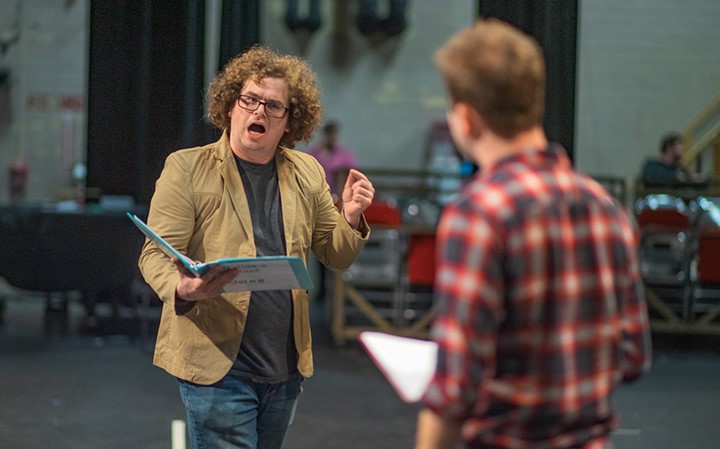 The Lamar University department of theatre and dance opened William Shakespeare's "The Comedy of Errors," March 21. The show runs through March 24.
The story is of mistaken identity between two sets of twins, in which they tangle themselves into each other's lives, causing farcical confusion.
Directed by Brian LeTraunik, the production will keep you focused and your belly twisting. The actors never ceased to give the audience a moment to stop laughing.
"The Comedy of Errors" starts by telling the audience that a merchant (played by Henry Phillips) and his wife (Hannah Johnson), violating the law, have become parents to twins and retrieved another set of twins to be slaves to their sons. Their sons (played by Nathan Crump and Ed Seymour) are both named Antipholis — and the slave twins (Daelen Fox and Matt Hurt) are both named Dromio, which leads to even more comic confusion. The four twins are separated from their parents in a shipwreck, causing one twin and his slave to be torn from the other twin and his slave.
The play is full of hilarious misidentification, with Fox and Hurt giving flawless performances. The entire ensemble is funny, but there is never a dull moment when one of the Dromios is on stage. The audience is never prepared for one of their entrances, and on opening night, continuously had smiles on their faces.
As with a typical farce, there is so much happening on stage all the time — people running on and off and yelling — yet one still knows exactly what is happening. Soon enough, one feels like telling the characters why they are so confused.
The play is held in the University Theatre, but as a twist, the audience sits on stage on a two-step platform. The set is simply four pillars. The intimate setting really connects the audience with the actors. The audience feels like they are living the story. At one point, the Duke (Austin Jones), even sits with the audience.
If one is looking for a good time this weekend, "The Comedy of Errors," is an excellent choice. The cast will make you almost fall out of your chair with laughter.
Showtimes are 7:30 p.m., March 22, 23, and 2 p.m., March 24.
Tickets are $7 for LU and LIT students, $10 for seniors, and $15 for general admission.
For tickets, call 409-880-8037, or visit
lamar.edu/theatre
.