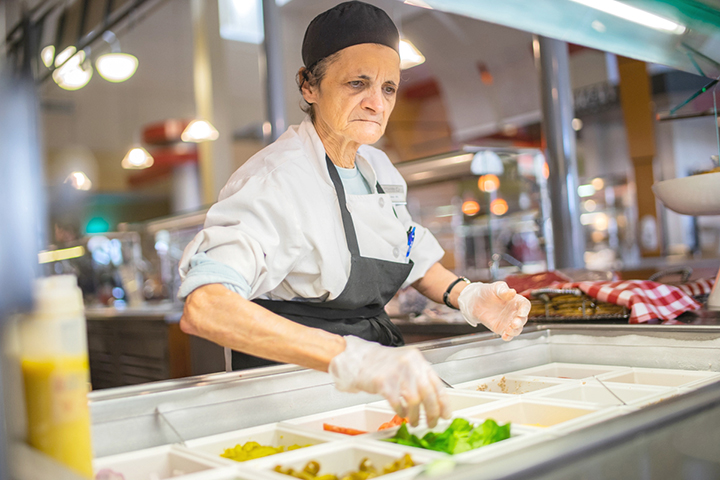 The Dining Hall is hosting its "Fuel Up" campaign, an incentive to purchase a commuter's meal plan, with a free weekly Chick-Fil-A meal for the rest of the spring semester, as well as a chance to win one of five $50 gas cards.
"Commuters who sign up for a meal plan will have a coupon booklet specifically for them with coupons designated for each of the remaining weeks of this semester," Jack Spurlock, Brooks Shivers Dining Hall marketing manager, said. "We also ask the commuter student to provide us with their email, so we can contact them if their name is drawn for the gas card giveaway."
Fuel Up will be completed once 250 students have purchased the commuter meal plan, or until the end of the semester, Spurlock said.
The commuter meal plan includes 50 Dining Hall swipes and $100 worth of "Dining Dollars" for $575.
"Since this is an ongoing campaign, the drawing for all five gas gift cards will be held during finals week," Spurlock said.
The booklets can be picked up at Chick-fil-A in the Setzer Student Center Food Court by presenting a CardinalOne Card or another form of identification.
As of 2018, Lamar University's total undergraduate enrollment in which students are physically on campus is 2,491 residential students and 5,074 commuter students, Spurlock said.
"Since LU has such a large commuter population, we wanted to offer this incentive to them so they can enjoy a free meal on us while enjoying the advantages of having a meal plan," he said.
Commuter student Cade Dattilio, Bridge City senior, said he likes the idea of a commuter meal plan.
"If I purchased the commuter meal plan at the start of the semester, I've figured the money to be equivalent to spending about $8 a day for food, every weekday, on campus," Dattilio said.
The most obvious advantage, Spurlock said, is the convenience of having someone else do the cooking and cleaning up — which enables students to spend more time studying and socializing.
"It is also easier to budget money when you are on a meal plan," he said. "Even though funds may decrease right before payday, students will always have access to a meal while they are on campus."
Brandon Day, Orange junior, lives on campus and said if he wasn't't required to purchase a meal plan he would still look into purchasing one.
"I know I don't have time to pack my own lunch in the morning, and on some days, I just don't have time in between classes to wait in long lines, or drive off campus to get food," he said. "Plus, I like how the dining hall has a variety of foods, and for only one swipe, I can eat all the food I want."
For more information or to sign up for a meal plan, visit DineOnCampus.com/BigRed, or follow @lamardining on Instagram.