Campus improves lighting, crossings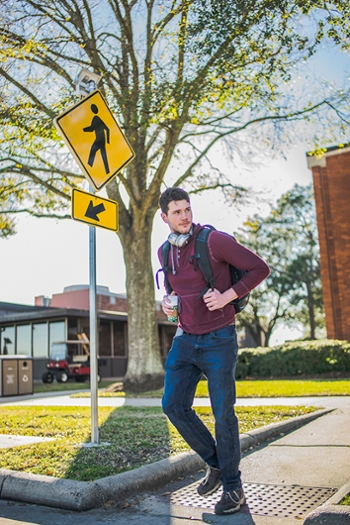 In addition to the LiveSafe app, Lamar University's facilities and maintenance has installed improved lighting and crosswalk features.
"There are 18 lights that were installed along Rolfe Christopher, and there will be more installed with the new project for the G-2 parking lot and Iowa Street," David Martin, interim associate vice president, facilities management, said.
Students will also notice the flashing crosswalk signs.
"If you look down Rolfe Christopher you'll see all the crosswalk signs have yellow flashers all the way around them," Sgt. Jarrod Samford, public information officer at LUPD, said. "They have solar powered batteries on top of them and you definitely see there's a crosswalk."
During Christmas break, new Blue Light emergency phones were connected around campus.
"Additionally, we have installed 39 new Blue Light emergency phones," Martin said. "These phones are cellular and solar powered, enhancing the overall reliability of the older phones they are replacing."
Samford said the old phone lines were 1980s technology.
"The old white pole lines were phone driven, which means they actually had phone lines ran to them," he said. "There are some really large oak trees around campus that love to grow through power lines. We were always having connectivity issues with those things, constantly having to rerun lines and patch things."
For more information visit www. lamar.edu/campussafety.
Story by Rachel Hellums, UP contributor